Fence Repair Company in Sacramento CA
High-Quality Fence Repair Services for Sacramento
One question that we often get from new clients who meet us for the first time is if we are able to repair an existing fence made by a different company. Of course, Master Sacramento Fence Co can! The expert fence building contractors that make up our company have been known to do incredible work to repair even the most elaborate designed fences that were constructed by other people. We don't always get to everyone first, which is why we offer our top-notch repair services for any fence, gate, or balcony railing that you may need to be restored. We specialize in fixing structures that have been damaged by weather or improper installations. Our staff of fence experts have all the proper experience that is needed to work with the construction done by different hands. Many other companies in the area may have done a decent job with the construction, but we can usually always find better ways to improve on it if that is what you desire. Our contractors are meticulous when it comes to the steps taken during construction. The fence is only as good as the care that was put in to building it. If you chose a different contractor than you most likely didn't receive the same amount of attention to detail as our staff. The details are everything to our company. Why? Well simply put, some of the biggest causes of failure that a fence can have are from just small details such as where the hardware was sourced for the job. Having a company like ours work for you means that every small piece of hardware and every tool was specifically chosen after checking them for quality. You simply can't build anything the right way if you didn't start with the right tools and materials. So, it is easy to see how a different fence building company out there could have easily messed up on their work. Not to worry, if your fence, gate, or railing has any issue with it at all, our expert fence contractors can come out to your property and point out anything that could be wrong with it by giving you a thorough inspection.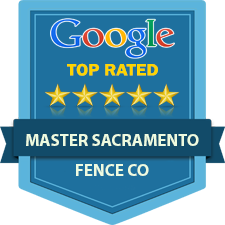 Affordable Fence Repair in Sacramento County
A good reason why Master Sacramento Fence Co has been able to grow in the past is thanks to our affordable prices for all of our services. It has never been more convenient to take advantage of the expertise that our Sacramento fence installers have. We make sure to check with the competition regularly to make sure that our prices are still the best in town. This means that the project you were thinking of doing can be completed with less money than you might be thinking. If you save money on our work, that means you have more money to spend on making other areas of your home look amazing. If you are planning on doing multiple projects to renovate your property, it is a very smart move to choose us to work with!